All of our bespoke events are designed with family business needs at their heart. 
Our programme of tailored events include our flagship family business conferences, regional family business awards, exclusive family business insight events, live 'An Audience With…' events, educational workshops, topical debates and many more.
Held in various formats, both online and face to face, these events are designed to add value to our family businesses and those that support the sector.
Whether you are celebrating alongside peers at one of our Awards ceremonies, listening to respected leaders at one of our conferences, hearing the unique story behind a family business at one of our insight events or tackling specific family business topics at one of our learning events, you will always be benefiting from the shared experiences, knowledge and support of your peers in business, as well as making valuable contacts within a safe environment.
A list of all our upcoming events can be found below, along with further details on each event and how to book.
The Family Business MidiCon – North West
Thursday 6 October 2022
Levens Hall, Milnthorpe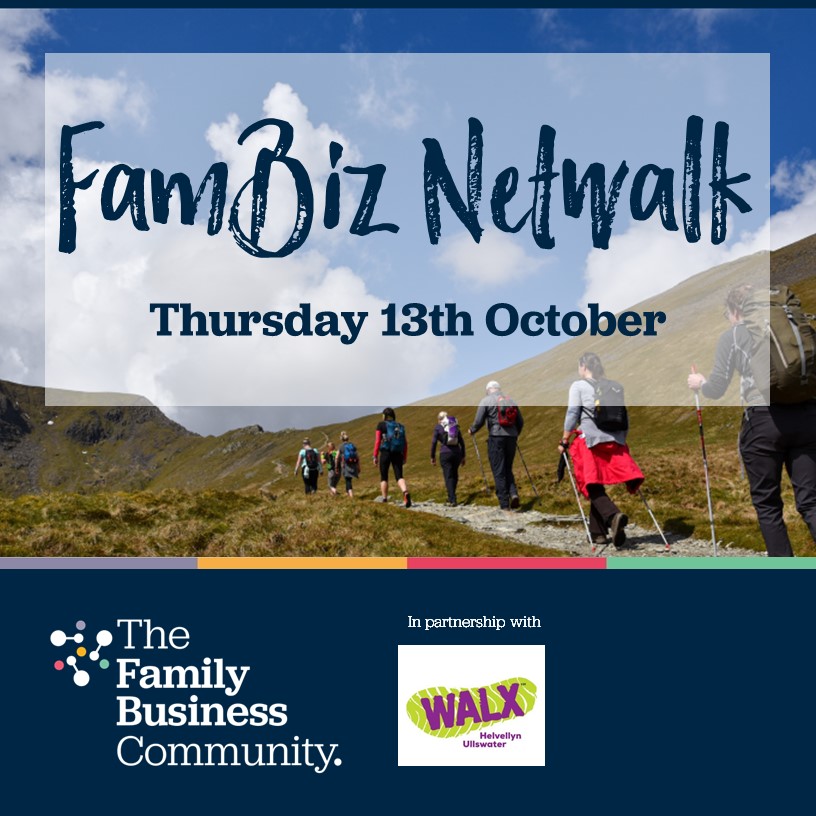 Thursday 13 October 2022
Ullswater/ Patterdale – North Cumbria
Our Cumbria FamBiz Netwalk 2022 will offer a day of great company and conversation with other family businesses, hiking amongst the stunning scenery of the Lake District with our mountain guides.
MORE INFORMATION
Dig out those hiking boots and prepare for a day of great company and conversation with other family businesses, amongst the stunning scenery of the Lake District.
Our Cumbria FamBiz Netwalk 2022 will take place on Thursday 13 October, led by family business owners and mountain leaders, Nic & Charles Sproson.
We will be providing further details of the Netwalk route and length closer to the date, but we expect the hike to be approximately 7-8 miles in length and moderately challenging. 
The route will take in a section of the iconic Ullswater Way route in addition to some of the lesser known areas around the Martindale valley during the deer rutting season, where the Red Deer can sometimes be seen and heard. 
Prior to the FamBiz Netwalk, all walkers will receive details in the week prior to the event confirming the meeting point, parking arrangements, weather forecast and kit required. All terrain shoes with good grip will be required, along with a waterproof jacket and a rucksack with bottle of water and high energy snack.  The walk leaders will always have a first aid kit and emergency kit, but you must be able to carry your own rucksack for the duration of the walk. You are very welcome to bring your Nordic Poles or Tracking Poles if you wish.
For any questions on this event, please email team@fambiznet.co.uk
Dogs: If you would like to bring a well-behaved dog on a lead, please email us to let us know. We will email all walkers in the week before the walk to ensure that no participants have any objections to this and then re-confirm to all those that have requested, that they will be allowed.
Yorkshire & Humberside Family Business Awards 2022
Friday 11 November 2022 
Headingly Stadium
MORE INFORMATION
The Yorkshire & Humberside Family Business Awards will launch for the first time in 2022, organised and run by The Family Business Community. The awards will provide a fantastic opportunity for family businesses of all shapes and sizes, within Yorkshire & Humberside to share and celebrate their success stories.
The inaugural Yorkshire & Humberside Family Business Awards will take place on Friday 11 November at Headingly Stadium, near Leeds. 
Expressions of interest are now open and we invite interested businesses to register their interest so that when the time comes, you will be best placed to get that application form in and begin your #YHFBA journey.
To register your interest, or find out more,  please email team@fambizcommunity.com
or visit our website
Contact
The Family Business Community
Windermere Road
Staveley
Kendal
Cumbria
LA8 9PL
Sign up to our free Newsletter
The Family Business Community (The Family Business Network Limited) will use your details to send free relevant, regular marketing communications (such as news updates, awards and event invitations) but will not pass your details on to third parties. All use of personal data shall be in line with our privacy policy.